Trinity's TAKE 21 program offers participants the truth about fitness and weight loss, why some achieve it and most don't.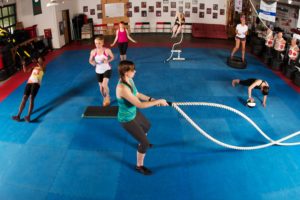 We will take you step by step through the fitness and nutrition myths and misleading advertising to get you realistic and achievable results, fast!You will learn...
• why cardio exercise can make you fatter!
• the difference between weight loss and fat loss
• how to increase your metabolism in less than a week
• have more energy in 7 days
• why diet centers fail
• why your beliefs could be causing you to gain weight
• there's no such thing as a fitness or weight loss plateau
• how you can achieve the results and have the body you've always wanted
• and more!
We are able to show you exactly where you are when you start with an 'at home' comprehensive fitness assessment. Your online instructor will guide you step by step through the fitness workouts and nutrition. Upon completion of the program you will receive a final fitness assessment to show you the incredible progress you've achieved over the 21 day journey!
To recap, here's what's included with the program:
-Fitness/ Nutrition Evaluation/ Goals Discussion ($250 value)
-3 Small Group Online Education Sessions ($147 value)
-Video Access to all TAKE 21 program exercises ($225 value)
-Trinity's Official 2016 TAKE 21 manual and additional handouts ($59 value)
-Nutritional "Rule of 3," and nutrition guidelines ($210 value)
-Sign up NOW and get the rest of 2019 online membership for FREE!
for more information please email me at info@trinitybody.com
Grab your copy of TAKE 21 online program NOW! 
TAKE 21 – 21 Day Transformation Program Online Price: $99.00
We are offering a special price of over 50% OFF ($50 savings) the program for the first 10 participants!
That's a total of $49.00 for a complete program guaranteed to assist you in kick starting your 2019 and achieving your New Year's resolution goal! Enter promo code 2016 at checkout to receive your special price!
Sign Up NOW! 

Need a little more info? Here's a testimonial from one of our hundreds of former T21 participants.
I had just finished running my third half-marathon, but still was not happy about how I felt or how my body looked. Since I was working out 5 - 6 times a week, I just couldn't understand why I was not seeing results. I was dreading putting on my summer clothes because I knew they were going to be snug.
Going into Take 21, I was not sure if I would see results.  It really gave me control of my health and fitness. By the beginning of week two I was starting to notice that I needed a belt to hold my pants up. I noticed more definition in my arms and my stomach. When the 21 days was over, I had lost 10 pounds of fat! I could not believe it! I looked better in my clothes and felt better about myself. I also had more energy during the day.
The program itself is very empowering. It teaches you a lot about yourself and what you can do if you really put your mind to it. Nathan knows what he is doing; trust him, follow the program and you will get amazing results.
Bethann Northup