Former Tae Kwon Do Champion becomes competitive triathlete with sights on World Championships!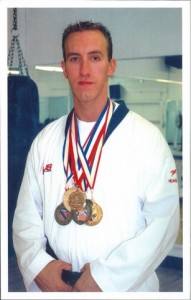 Nathan started is martial arts career at the age of 9. After watching the "Karate Kid" he decided that was the athletic path he wanted to pursue. After practicing American Karate for 6 years, Nathan's TKD career began at the age of 15 in 1991.
A year after the switch from American Karate, he won a silver medal at the 1992 Jr. Olympic Nationals. He's won multiple state and regional titles as well as winning the AATU National Championships in 1994. In 2001 Nathan was named 1st runner up for Atlanta's Sports and Fitness Magazine's most fit male of the year.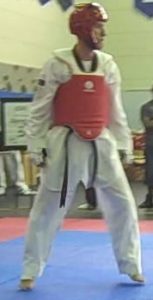 Nathan competed at the U.S. Olympic Team Trials Qualifier in 2004. During the competition, he tore his left ACL and meniscus requiring extensive surgery. After rehabilitation, Nathan began competing again. Since then he has won a Bronze medal at the 2006 U.S. National Championships, Gold medal at the 2008 U.S. National Qualifier (Houston, TX.), competed at the 2009 U.S. National Team Trials Qualifier (Olympic Training Center). In 2010 Nathan won Gold medals at the USA TKD South Carolina State Qualifier, AAU Georgia State Qualifier, AAU South Carolina State Qualifier and a Silver medal at the U.S. National Qualifier (Daytona, FL.)
In 2011, while qualifying for Nationals, Nathan tore is right ACL and fractured his tibia. Nathan completed and won the competition, but the choice to continue the match ultimately ended his TKD career.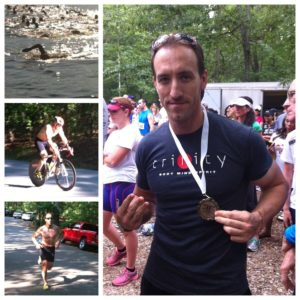 Nathan transitioned to triathlon in the middle of the 2012 season. Winning several local races made it obvious this would be his next sport. He finished the 2012 season with the completion of a Half-Ironman Race in Augusta, GA. In 2013 Nathan qualified for the USA Triathlon National Championships and won an impressive number of races in the Men's 35-39 Age Group. 2014 continued for Nathan's Triathlon success. Nathan made the podium 4 out of 8 races in 2015 an qualified for the 2016 Duathlon World Championships in Aviles, Spain. 2016 looks to be another great season. He is racing his 3rd season for Team Podium. A competitive triathlon race team located in Atlanta, GA.
2017 Race Schedule:
April
29th John Tanner Duathlon* - 3rd Place OA Masters
August
26th John Tanner 2 Duathlon* - 1st Place AG
September
29th Lake Lanier Sprint*
2016 Race Schedule:

April
17th Kick Start Duathlon - 3rd Place AG
30th John Tanner Sprint* - 3rd Place AG
May
7th Callaway Duathlon - 2nd Place OA
22nd Chattanooga Half Ironman 70.3* - 8th Place Relay
June
4th-5th Duathlon World Championships - 39th Place
September
24th Lake Lanier Sprint* - 4th Place AG
November
6th AG Nationals Duathlon World Qualifier
*Team Podium team race event
OA - Overall
AG - Age Group
OAM - Overall Masters
2015 Race Schedule:
February
14th Two-Twenty-Two Duathlon - 1st Place AG
March
21st Lake Clermont Sprint Triathlon - 4th Place AG
22nd Great Clermont Olympic Triathlon - 14th Place AG
May
17th Chattanooga Half Ironman 70.3 - 3rd Place Relay
July
19th Escape to Blue Ridge Tri the Mountains Triathlon (Sprint) 9th Place AG
September
5th PTC Sprint - 3rd Place OA Masters
12th - Tugaloo (AquaBike) 1st Place AG - 2nd Place OA
October
November
AG Nationals Duathlon World Qualifier - 6th Place AG
for a complete list of multisport events check out Athlinks