STOP!
Are you stuck, frustrated and/or flat out disgusted with your lack of weight loss results?
Are you eating "healthy" and working out regularly, but still not seeing results in the mirror?
Do you suffer from chronic fatigue?
Do you suffer from chronic illnesses such as hypothyroidism, diabetes or high blood pressure?
Are you sick and tired of being sick and tired?
Well, if this is the case, everything you've learned about fitness and nutrition is keeping you fat and unhealthy
and ultimately from getting what you WANT!
Before you TRY another weight loss or diet program...
Find out why you're not losing weight and stuck in the endless "fat cycle paradigm"
Trinity's
Fitness and Nutrition Orientation!
YES, You too Can Lose Body Fat and Regain your Health  in the NEXT 24 DAYS!
There are so many people out there trying to eat right and exercise regularly in order to lose weight, stay healthy and lead a more productive life. Yet, more and more people are considered clinically obese every year. 65% of the U.S. population is considered obese.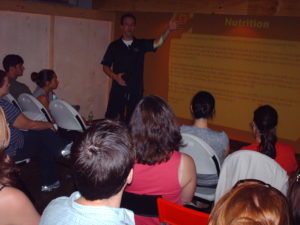 So, what exactly does "eat right" mean? Doctors will tell you to "eat right", but they don't really know what it means. Instead, they prescribe medications to combat diseases such as hypothyroidism, diabetes and high blood pressure to name a few of the chronic diseases plaguing our society.
There are also thousands of diet books giving crazy suggestions and guidelines for what they consider "eating right", but that leaves most people frustrated, starving and in many cases fatter than when they started.
And then there are celebrities from TV stars to radio D.J.'s that would have you think the products, paying them hefty sums of money, will be the answer to your health and weight loss problem. They tend to leave out the fact that many times these endorses don't even use the products they claim worked for them.
Trinity's Fitness and Nutrition Orientation will help you break through the misinformation coming from doctor's and prescription drugs, the myths of nutrition books and fad diets and celebrity endorsements of products to bring you real information on how to "eat right," exercise and strengthen the body, loss weight, and have more energy than you have had in years!
Here's some of what you'll learn...
Why "eat less to weigh less" really doesn't work for long term fat loss success
Why your worst enemy could be living in your bathroom
The dangers of the weight loss roller coaster on your overall long term health
How easy, simple and effective healthy eating is to master and maintain
Eating healthy doesn't mean eating bland, tasteless foods
PLUS... The "How To's" to tracking your nutrition for Optimal Weight Loss!
This seminar is for anyone looking for a guaranteed approach to long term weight loss and increasing vibrant youthful energy while restoring the body to peak physical health.
Due to limited space, we're capping the seating at 10 participants and you must pre-register for this event!
Don't wait, register now, this seminar ALWAYS SELLS OUT!
 Regain your health NOW!