Are You Prepared? Self Defense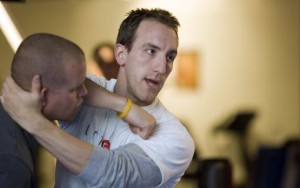 Over the past twenty years we have personalized courses for Dekalb County Sheriffs' Continuing Education Program, Greater Lithonia Chamber of Commerce, Gold's Gym, Ladies Workout Express, Georgia Institute of Technology, Georgia State University, Dekalb Community College, Dekalb Perimeter College, Kennesaw State University, Emory University, Gamma Alpha Pi Chapter of Omicron Epsilon Sorority, A.T. Kearney, The Home Depot, Coca-Cola Company, Jason's Deli, Lil 5 Points Community Center, listeners of HOT 107.9, ROCK 100.5, WSB Channel 2 and B98.5 "Chicks Fight Back!", Northview High School, North Springs High School, Woodward Academy, Renfroe Middle School, U.S. Geological Center, Jason's Deli, GA Power, Southern Company, Lululemon Athletica, Podium Multisport, New Sole Running Store, Sorella Cycling, PTC Tri club, Stoddard's Range and Guns, Lutheran Church of the Resurrection, "A Better Me a Better Life" girls work shop, AON Financial Service Group, PKF North America, Young Survivor Coalition, Peachtree Hills Neighborhood Association, Poncey Highland neighborhood Association, US Geological Survey, YWCA-Cascade House and various neighborhood and civic organizations. Today, learning how to protect yourself has become a necessity of life.
The Atlanta police department reported that in Atlanta, GA there have been an increase in crimes including rape, sexual assaults and robberies - including purse snatching, with teens and young adults experiencing the highest rates of crime. According to the National Crime Victimization Survey, 71% of rapes/sexual assaults occurred without the use of a weapon.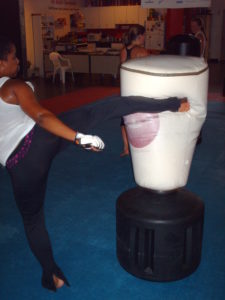 Developed by Trinity Fitness, Are You Prepared? is a self-defense program designed to provide women with the knowledge and power to defend themselves. Trinity's dynamic interactive seminar will instruct you on practical techniques that can prevent you from being a victim. The principles developed in this class are designed specially with women in mind. Are You Prepared? incorporates real-life scenarios with practical, step-by-step techniques that are easy to use and execute under pressure.
The first step to protecting yourself is to avoid potentially dangerous situations, places, and people. But, what if you can't get away? You must be able to make a quick decision, one that may change your life forever! It's a personal decision that everyone must make for themselves, and in that moment, no one can help make it for you. If you choose to fight back, how do you?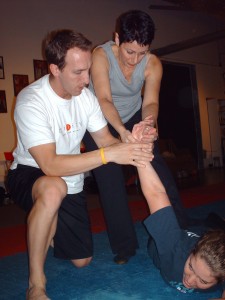 Our goal is to empower all self-defense participants to live their lives fully and without fear, because they will know how to protect themselves if a dangerous situation occurs. Even more important, they will learn how to avoid these situations and by doing so, avoid the emotional and physical effects such an attack can incur.
Trinity provides many different options for seminars and workshops. These include 1 hour Lunch n Learns, 2 hour "Basics to AYP?" and 1 day to 5 week programs.
SELF DEFENSE : ARE YOU PREPARED?
WEEK 1 - Introduction and Fundamentals: The Basics to Punches, Elbows and Grabs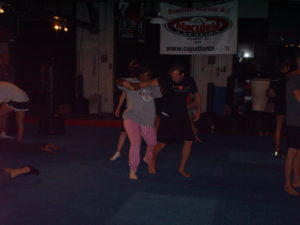 In the first week of this program, participants will learn how to avoid being targeted by attackers. We will discuss what attackers look for in victims and how to avoid putting yourself in possibly harmful situations. Participants will also hear stories of real attacks and how the women defended themselves. This will be followed by a practical segment, in which class members will learn and understand basic punches, elbows, and basic wrist and shoulder grabs, as well as primary targets to attack.
WEEK 2 - Kicks, Knees and Advanced Grabs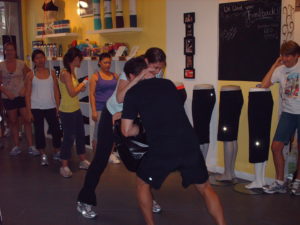 In the second week, we will progress to more difficult situations to deal with and learn more advanced defensive grabs. A variety of grabs will be demonstrated, some initiated from the front and some from behind, and some may even put you on the ground. You will learn how to stay calm and use your body as a tool to defeat and escape an attacker.
WEEK 3 - Cycling, Running and Ground Attacks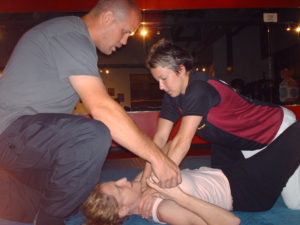 The third week covers out door safety strategies for attacks on trails and other public recreational areas. Exercising outdoors is a regular part of many fitness routines. Learning to defend yourself against an attack while biking, jogging or hiking is an essential part of a personal protection plan. After learning outdoor safety the class moves to ground attacks. Being pinned on the ground can be scary. Instructors show how to escape from an attacker that has you on the ground.
WEEK 4 - Automobile, Multiple Attackers and Knife Attacks
If an attacker enters your car, what do you do? The first part of week 4 covers automobile safety. These simple and practical techniques will keep you safe. All attacks this far have been from single attackers. The class gets its first look at multiple attackers coming at the same time and different directions. Learning to stay calm and rely on what they've learned to avoid, defend and evade.
WEEK 5 - Defensive Strategies Against a Gun Attack at Home, at Work and in Public
Today we're faced with a growing threat of active shooter scenarios. Whether at home, work or in general day to day life, we must be vigilant and aware of our surroundings. The main thing is to not allow fear to keep you from living your life, but also not being overly confident in situations that can be prevented. All active shooter situations can not be prevented. Either way, there are tips and techniques to help protect you and your family if the threat arises.
For more information on Are You Prepared? self defense programs, please email us at nathan@trinitybody.com or call us at 404.966.KICK (5425)
Here are testimonials from AYP? graduates and seminar participants. I AM PREPARED!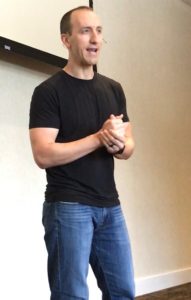 Nathan Nowak is the President and CEO of Professional Training Systems, Inc. and owner of Trinity Fitness. He is a nationally recognized fitness professional, speaker, author and athlete. Nathan has over 20 years of experience in the fitness and nutrition industry. He's an expert on women's fitness, nutrition and empowerment.
With over 30 years' of martial arts experience, Nathan has both competed in and coached Olympic Tae Kwon Do. He and his athletes have won numerous National, State and Regional Championship titles. In 2004 Nathan was fortunate to make it to the Olympic trials qualifier for Tae Kwon Do.
He actively instructs seminars throughout the country on women's safety and defense. In 2005, Nathan created Trinity's 5 week women's self-defense course, "Are You Prepared?" which has been featured on FOX 5, Channel 2, Channel 46 and Channel 11 in Atlanta as well as in major newspapers across the country.